Electric Bicycles Review
---
Best Electric Bicycles of 2023
Electric Bicycles Buying Guide
Modern models have three modes of movement:
electric traction;
pedaling as on a bicycle through the rider's efforts;
synchronous mode, when the engine shares the load with the cyclist.
This type of transport is especially convenient in metropolitan areas. It can bypass any traffic jams and get to work in time. A folding electric bicycle can easily be taken with any form of public transport.
The choice of an electric bicycle should be made by focusing on the specific tasks that it will face. Among electric bicycles, there are three main categories:
The main difference between them lies in the frame design, wheel diameter, and shock absorption system. Before choosing, you should pay attention to the technical specifications of the model, take a look through photos and videos, as well as read the owner's comments.
The fastest electric bicycles of 2023
The maximum speed for most electric bikes is between 25 and 50 km/h, depending on the weight of the vehicle and the power of the electric motor installed on it. The exception in this line of vehicles is high-speed electric bicycles. They can easily reach speeds of up to 100 km/h and above, impressing with their power and acceleration dynamics.
Such electric bikes are limited editions and cost tens of thousands of dollars, so they are positioned as a luxury item. High-speed e-bikes differ from the majority of other electric bikes both in appearance and technical equipment. In terms of performance, high-speed e-bikes are closer to mopeds and motorcycles.
If desired, an e-bike with any characteristics can be assembled to order. Let's take a closer look at 3 of the world's fastest mass-produced e-bikes for adults.
TESLA ELECTRIC BIKE 20000 W
The powerful and stylish TESLA ELECTRIC BIKE 20000 W is the king in the category of the fastest electric bikes. With its weight of 80 kg, it is designed for a weight load of up to 200 kg.
The main characteristics of this model:
17-inch wheels; steel frame;
rear-wheel drive;
power is up to 20 000 W for short-term loads;
speed up to 120 km/h;
80 Ah lithium battery;
200 km range on a single charge (depends on riding conditions);
charging time – 8 hours,
cruise control;
disc and electric brakes;
regeneration mode;
lightning.
This model looks less like a classic electric bike than like a motorcycle – even its seat is motorcycles. Nevertheless, it appears in many ratings, and the presence of pedals allows the term "electric bike" to be used among alternative names. The estimated price starts at $29 799.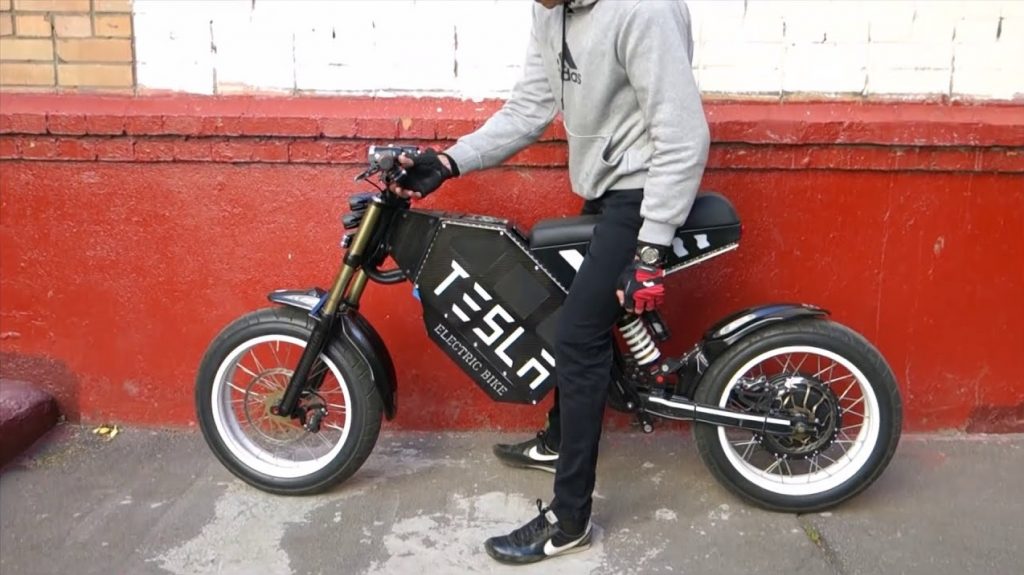 Gulas Pi1S
Although this e-bike has pedals, they are not used for their intended purpose, but just in addition to the electric drive. All the work is done by an electric motor with 38 hp (30 kW). Thanks to the engine, the bike weighing 128 kg can reach speeds up to 115 km/h. However, the pedals of this model are connected to the generator, so while pedaling the rider increases the battery capacity and range on 1 charge.
Features of the Gulas Pi1S electric bike:
torque from start 100 Nm;
excellent acceleration dynamics;
2 battery options – 6.5 or 10 kWh;
the range is up to 125 or up to 200 km, depending on the selected battery; 17-inch wheels with 120/70R and 130/70R tires;
inverted telescopic-type suspension fork;
rear mono-shock absorber;
disc brakes;
bright headlight;
approximate price of $24,000 and $30,000, depending on the battery's capacity.
Considering the appearance and characteristics, this wonder of technology is closer to electric motorcycles than bicycles despite the presence of pedals. According to European law, it is equivalent to 125cc motorcycles, but it has a status of an electric bicycle.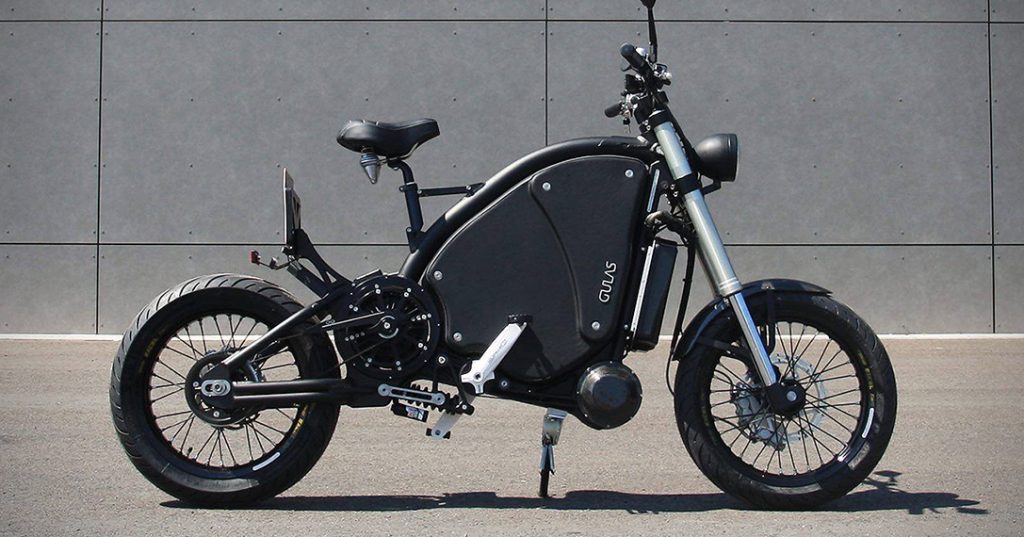 BLACKTRAIL BT-01
Since its appearance in 2010, the product of the German brand PG-Bikes, created in cooperation with UBC – the e-bike BlackTrail – has remained the unchanged leader in the top ultra-high-speed electric bikes for several years.
It is noteworthy that the idea for its creation came to the designer of PG-Bikes after visiting a millionaires' fair. The inventor decided to create a unique vehicle for true connoisseurs, and 1.5 years later his idea was implemented. Twenty engineers worked on the creation of the fastest electric bicycle of its time.
The characteristics of the BlackTrail BT-01 are still impressive ten years later:
3.6 kW electric motor;
speed up to 100 km/h;
hand-made frame;
48 V Li-ion battery;
weighing about 20 kg;
up to 200 km range on 1 charge, depending on riding mode;
at 100 km/h – range up to 60 km, and at cruising speed of 40 km/h – up to 200 km;
full charge time – 3 hours;
LED headlights;
touch switches;
motorcycle-type brake and gas levers;
battery case made of genuine leather;
stylish design with retro elements;
The price is $ 80,000.
Yes, you are not mistaken. It's definitely the most expensive electric bike in the World. But at the same time, it is also one of the fastest e-bikes.
The Blacktrail is not only fast and powerful but also very lightweight compared to other models of its class. To reduce its weight, the designers used carbon fiber, titanium, carbon fiber, and a special aluminum alloy used in the space.