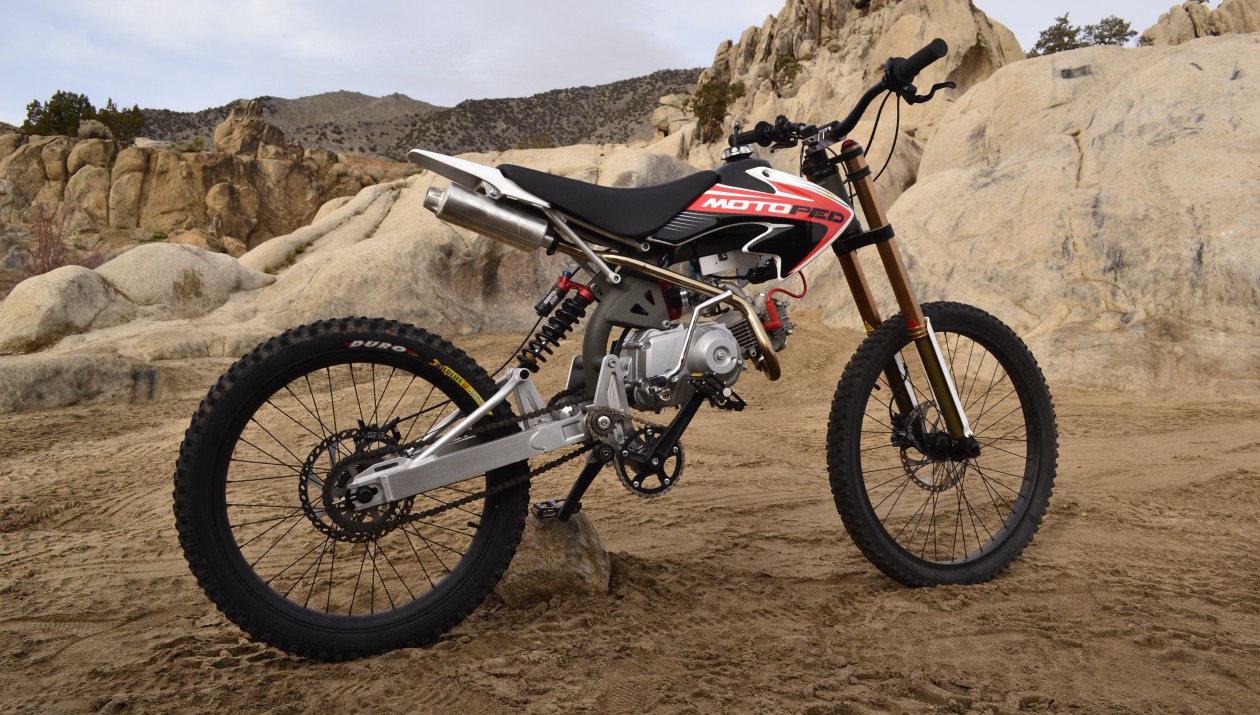 About Motoped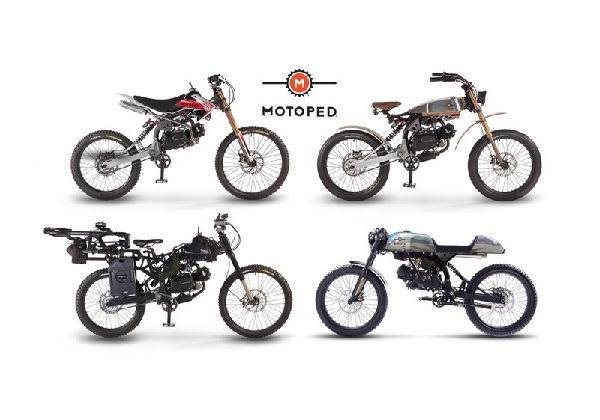 Facts About Motoped
MOTOPED® is what it isn't, and dares to be different. Somewhere beyond a hard-core downhill mountain bike, but not quite a full-fledged (heavy) motorcycle, we carve out a whole new niche. Lightweight, extremely fuel-efficient, novel, useful, and fun – MOTOPEDS go where standalone bicycles or motorcycles can't.
Moreover, we get there with a head-turning style that's impossible to ignore. We're passionate about our approach, innovative and transparent in our mission, and proud to welcome you into our family!
Lower Your Carbon Foot Print
The MOTOPED® has the power to weight ratio advantage over many other small engine product manufacturers which significantly reduces the amount of energy needed for forwarding motion. A MOTOPED® equipped with patented SmartCarb® technology can achieve up to a 30% reduction in the output of emissions compared to competing small engine transportation or recreational type products.
Low Cost Transportation
A MOTOPED® equipped with our stock OEM MOTOPED® 49cc engine can achieve between 80 and 130 miles per gallon. Additionally, MOTOPEDS® are simple in design which makes for easy maintenance and repairs.
Pedal or Motor
The MOTOPED® can be pedaled with ease or start the motor with a push of a button without stopping. While a MOTOPED® weighs more than a bicycle, its great exercise, and you will never be stranded if you run out of gas. You can peddle in areas where motoring is not welcomed and motor when it's time to get up and go. MOTOPEDS® can be equipped with electric-start and/or kick-start engines insuring against nearly any chance of complete operational failure.
Licensing and Registration
In many states the MOTOPED® is classified as a motorized bicycle. Regulations differ from state-to-state so be sure to educate yourself about your local regulations to determine if you're riding your MOTOPED® legally. If your state recognizes motorized bicycles as a distinct classification, you may not be required to license, register or title your MOTOPED®.
Transporting, Parking and Storing Made Easy
At around 120 pounds (+/- depending on the model), a MOTOPED® weighs in at less than half of a typical small motorcycle and just a bit larger than a common downhill mountain bike. You can transport your MOTOPED® on a durable, properly constructed automobile rack or easily load it into a pickup or van.
Another advantage to the MOTOPED® is they can be parked anywhere you can park a bicycle. Imagine riding your MOTOPED® to school or work and utilizing the bike rack at the front of the building rather than searching for a parking space in a crowded parking lot or street side. Plus the MOTOPED® can be safely stored in your garage, carport or balcony as it takes up little space due to its narrow stature. Getting the MOTOPED® up and down a flight of stairs is an effortless proposition for you and a buddy.
Please note: Always use an appropriate bike lock or locking mechanism to safely secure your MOTOPED® from the thieves in this world.
Also, They're Really… Really Fun
Motocross pro's ride the MOTOPED® for an all new, light-weight, low-cost riding experience simply defined by one word – AWESOME. Outdoor sportsman and hunters use the MOTOPED® to trek to their favorite spot quietly and calmly then carry out their dinner with minimal effort. Students MOTOPED® around school where pedaling and motoring gives them optimal access to almost any part of the campus, quickly and easily. Commuters MOTOPED® to work, play in the dirt during lunch time, ride to the gym after work, then back home in time for dinner. Survivalists MOTOPED® for survival. Municipalities MOTOPED® for lower operational costs and expanded capabilities. Vacationers MOTOPED® to venture away from their RV's and expand their range all while enjoying the scenery. Adventurers MOTOPED® to hit challenging trails and outdoor riding in whole new fashions where other bikes may not be able to go.